Hi everyone
Here's Denzel who will be joining our family next Saturday
It's been a long time since I've had a puppy so I'm just looking for abit of advice if possible.
We shall be crate training Denzel from day 1 and I have now purchased a large crate. What I'm wondering is, what's the best way to set up the crate to train him? Is it best using the full cage & having it 'half & half' with bed one side and puppy pads the other? Or is it recommended to use a divider and just have bed in crate? I've read that if I use a divider it is best to leave crate door open overnight so puppy can poop & wee away from his bed until he is fully house trained? I'm not sure what to do for the best at the minute.
Also re food I'm planning on feeding Denzel on dry food. Breeder has told me he's currently on a diet of scrambled eggs & rice pudding. Which dry food would be best for his growth?
Can't wait to get him home & kids very excited aswell!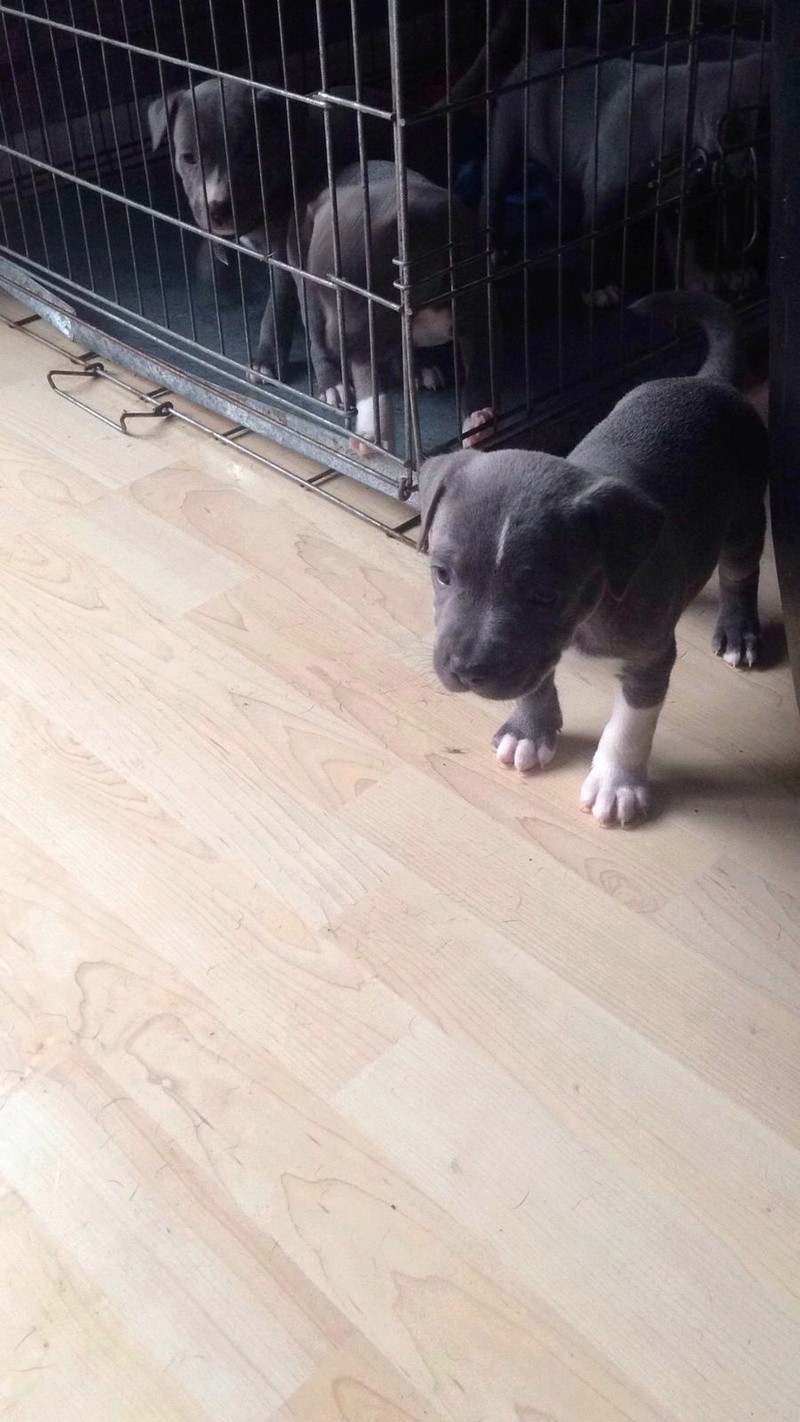 New Staffy-bull-terrier Member




Status :





Age

: 30


Location

: Manchester


Dogs Name(s)

: Denzel


Dog Gender(s)

: Boy


Join date

: 2017-01-14


Support total

: 0


Posts

: 2



Hi & Welcome to the Forum & the wonderful world of Staffies from Flo and me, an exciting time indeed
I would try whatever method works to be honest, they are all different and have their funny ways so it may well be trial and error for the first couple of weeks. Ensure the crate is
his
safe zone where he feels comfortable and safe, somewhere he can also escape the pressures of being the cutest little guy in the house
Staffy-Bull-Terrier Online Community
Meet the forum staff - Who's Who
Please read the forum rules - Click Here.


Staffy-Bull-Terrier Admin




Status :





Age

: 50


Location

: Surrey


Dogs Name(s)

: Anything, she's Deaf !


Dog(s) Ages

: About 11 maybe


Dog Gender(s)

: Girl


Join date

: 2014-01-31


Support total

: 2817


Posts

: 22190



Hi from myself and Tess and welcome to the forum.We had Tess 5 months ago so things are still fresh in my mind.All I will tell you is what we have done for Tess and has worked well,but pups and opinions vary.
We also crate Tess,and still do at night and when we go shopping.A crate big enough for his bed,perhaps half,and the other half will do for a drinking bowl and puppy pad will be ok.
We were lucky that we had Tess in the summer so we could leave the door open to go into the garden to do her jobs from day 1,which she her jobs outside from the very start.In fact we are very lucky that she has never yet done a job in her crate,we bought puppy pads and never was one ever soiled,only torn up,lol.Just make sure you put the pup out to do any jobs before you go too bed.
I am surprised the breeder hasn't started him on complete food yet.I would suggest any of the better quality brands,we we have always fed Tess on Eukanuba puppy and has done well on it,but opinions will vary.
Your pup will need 4 meals a day to start with,and there will be plenty of advice on the net of when and what.
Best of luck,and welcome to the crazy world of owning a staffy,lol.Only joking,I wouldn't change it for the world.
Staffy-Bull-Terrier Support Member




Status :





Age

: 77


Location

: CORNWALL


Relationship Status

: Married


Dogs Name(s)

: TESS


Dog(s) Ages

: DOB JUNE 2016


Dog Gender(s)

: BITCH


Join date

: 2016-09-28


Support total

: 66


Posts

: 240



Hi and welcome from me and mine as well
Some wise words already, here's my tuppence worth.
Crate training - I see it as essential that any crate training is done at the puppy's pace. It has to be a nice place, not somewhere he's locked in against his will. How he sees it will depend on how you train but also how he takes to it - some don't mind much, some find it worrying. It's good to see that your breeder seems to have got them used to it a little already.
Even so, my advice is to start off by always having the door open, putting nice things in there, and allowing him to go in and out of his own free will. Encourage him to go in to snuffle for treats and to eat his meals in there, but to start off with allow him to come out when he wants. That way he won't see the door as a trap to resist or to worry about.
When he's happily popping in and out, and knows that crate = nice things, close the door while he is eating but open it again before he's finished, so he doesn't have time to get concerned. Once you get him settled on kibble (assuming that's the route you go food wise), scatter it in the bottom of his crate to extend the eating time, and you'll find you can close the door for longer. Then you can start keeping the door closed after he's finished - maybe keep a little back that you can drop in for him to settle him again if he does have a little worry.
You should find he's soon happy in his crate and at that point I'd move his bedding in there to encourage him to sleep there after meals. And yes, keep the door open and house train him away from his crate.
I can see the benefit of crating to give your pup a quiet place, to have somewhere you can put him to calm things down if needed. Avoid using it instead of training and never use it as a punishment.
I don't know how old your kids are but I would strongly recommend you emphasise with them that they need to contain their excitement with Denzel. Staffie puppies in particular can be high energy, nippy and get OTT - you need to manage this from the start with the kids as things can get out of hand otherwise. Yes to play, no to giddyness. And no to anything at all that encourages mouth to hand/body contact. All - children and puppy - will need to know where the cut off point is. It is much, much easier to set the boundaries and rules now, before he's even with you, than it is to try and rein things in later on when kids are crying because Denzel has bitten them (in play). It's worth having a family sit down to establish how things will work.
On food, I always say to go for the best quality that your budget can afford. There's a good comparison website:
http://www.allaboutdogfood.co.uk/the-dog-food-directory
I use Millie's Wolfheart and I think most of theirs are fine for all ages. It's fantastic quality and not too expensive, cheaper that some of the lesser quality ones.
Staffy-Bull-Terrier Online Community
Meet the forum staff - Who's Who
Please read the forum rules - Click Here.


Staffy-Bull-Terrier Admin




Status :





Location

: Essex


Relationship Status

: Married


Dogs Name(s)

: Chaos, Nola and Millie


Dog(s) Ages

: 4, 11, and 3


Dog Gender(s)

: one boy, two girls


Join date

: 2014-11-02


Support total

: 1162


Posts

: 5819



Hi from me & Katy, Denzel looks adorable
Lots of fun times & staffie love ahead
I never crate trained but all the advice given should help you. Please post lots of puppy pics
Staffy-Bull-Terrier Online Community
Meet the forum staff - Who's Who
Please read the forum rules - Click Here.


Staffy-Bull-Terrier Global Mod




Status :


Age

: 45


Location

: Sedlescombe


Relationship Status

: Married


Dogs Name(s)

: Katy


Dog(s) Ages

: 9/10/12


Dog Gender(s)

: Female


Join date

: 2013-01-30


Support total

: 676


Posts

: 5122



Denzel looks like a handsome young man!

First off, I'll say, every dog is unique, every home is unique. I guaranteed you that you'll learn along the way, make mistakes and get frustrated. If your puppy is healthy and you keep being patient and responsive, you'll figure it out.

Once we figured out crate training (we made the mistake if crating him in our bedroom over night, cue some sleep deprivation!) Phantom was happy to be in the kitchen overnight with the crate door open. It is a safe, hazard free space where he can sleep. A nightlight, radio and toy helped him. He hated the crate door locked.

Puppies have a rhythm, sleep, poop, eat, play sleep. Once we figured that out, it got easier! Occupying him until he could safely go outside for walks helped with the nippiness. Phantom tore the stuffing out of any toys he could so we went down the Staffie proof rubber toy route, well worth it! We bought a plastic bone you could freeze and we gave him chilled wet face flannels to gum.

I don't recommend trying more than one treat at a time, if a certain treat gives him a bad tummy, you can know which it is if you stick to one type. Anytime he toilets outside, throw a victory parade,  make a big fuss. Denzel wants to please you, so positive attention will help him know what is good behaviour.

I recommend having a plan for when he gets too giddy and nippy. We do the arms crossed, no eye contact, become a very boring human who won't interact. Move away calmly and give him a timeout. Sometimes Phantom has his hellbeast naughty hour and it really helps to walk him or play outside vs telling him off over and over.

We played little recall games with Phantom, get your family to sit in a circle and have Denzel in the middle. Take turns calling his name clearly and reward hin with a yummy treat when he toddles over. Recognising his name and responding to your voice is a good first lesson.

Enjoy it. Phantom doubled in size in just seven weeks, so while the weeks after we brought him home felt sleepless and challenging, it went so fast!
New Staffy-bull-terrier Member




Status :


Join date

: 2017-01-08


Support total

: 3


Posts

: 14



Thanks a lot for the replies
I think I'll let Denzel have the entire cage for his vetbed & let him use kitchen floor over night if he needs to go until he's fully house trained.
Kids are 6 & 8 and will be very involved with getting Denzel settled + well aware of house rules for him also. My daughters (6) already bought him half a dozen toys!
Exciting times ahead and we'll make sure to put pics up once we get him
New Staffy-bull-terrier Member




Status :





Age

: 30


Location

: Manchester


Dogs Name(s)

: Denzel


Dog Gender(s)

: Boy


Join date

: 2017-01-14


Support total

: 0


Posts

: 2



Duke was crate trained as a puppy, and we still have the crate now, but he's never shut in it, he chooses to sleep there at night and often in the day, unless I am on the sofa then he chooses to snuggle up to me. I didn't put a pad in the crate, just bedding.

He also goes in his crate if he's scared, or feeling ill so I think he feels it's his safe place.
"Top Rank" Staffy-bull-terrier Member




Status :





Location

: Peak district


Relationship Status

: Married


Dogs Name(s)

: Duke


Dog(s) Ages

: born May 2015


Dog Gender(s)

: male


Join date

: 2016-07-08


Support total

: 35


Posts

: 360




---
Permissions in this forum:
You
cannot
reply to topics in this forum