Hi all,
My recently adopted dog is having some sort of allergy, infection on one of his paws and little lumps on his back legs.
His paws became raw and irritated with bits of skin coming out when last Saturday we let him run freely on a private field, he ran and ran and jumped and was very happy grabbing the toys we threw at him. However, we didn't realise his paws were suffering, he has mostly healed but has been licking/chewing one of his paws since Sunday (5 days ago)
I took the photos below last night, they don't look as bad in the photos as they are in real life. It looks like something there is wrong, it is irritated, red with a whiteish discharge from his paw that smells like blood rather than a foul odour. The lumps on the legs are significantly worse that appears in the photo, they are small and hidden under his fur.
He is not limping but does not like to be touched there, I tried to apply Leucullin Antiseptic but licked it instantly and he hates to have his paws wet, we tried to wash them too without success.
Yesterday we changed his food from Autarky dog food to CSJ Complete Tripe Wheat Gluten Free with Joint Care. We didn't do a transitional change as recommended as we want to get rid of the allergy asap but Tycho has vomited twice today during the walks.
Should we take him to the vets? or give him a few days to see if he adapts better to the new food and his rashes calms down? My poor little white beast.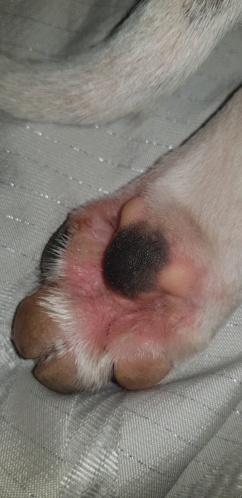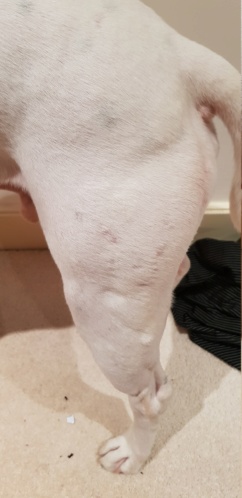 TychoMum

Regular Staffy-bull-terrier Member




Status :





Location

: UK - Liverpool


Relationship Status

: In a civil partnership


Dogs Name(s)

: Tycho


Dog(s) Ages

: 3 years old


Dog Gender(s)

: Male


Join date

: 2018-06-04


Support total

: 0


Posts

: 21



Could there be something 'sinister' growing in the field?

As there's a discharge, I would go to the vet. There's a chance that a grass seed could have worked its way in & if that's the case, it won't heal, no matter what you do, until it is removed.

In the meantime you could try him with a Piriton tablet and bathe his paws in boiled (and cooled) salty water.

gillybrent

Staffy-Bull-Terrier VIP Member




Status :





Age

: 53


Location

: Northants


Join date

: 2014-03-21


Support total

: 360


Posts

: 2061



IT could be a grass allergy so Piriton should help with the bumps if that is the case. As for the Paw, yes get it looked at, something is irritating that paw hence the licking and it could easily be a grass seed,
Staffy-Bull-Terrier Online Community
Meet the forum staff - Who's Who
Please read the forum rules - Click Here.



-Ian-

Staffy-Bull-Terrier Admin




Status :





Age

: 52


Location

: Surrey


Dogs Name(s)

: Anything, she's Deaf !


Dog(s) Ages

: About 12 maybe


Dog Gender(s)

: Girl


Join date

: 2014-01-31


Support total

: 2863


Posts

: 22532



Hi,
I would take your dog to the vet for the paw. My staffie is blue and has an allergy. The vet advised me to put her on hyperallergic food from Royal Canin. It did not work for us. I have decided to put her on Fish4dogs. It has been brilliant and there is a big improvement in her skin. The vet is also impressed. The food is not cheap but it is better than coming back to the vet and see your dog uncomfortable.

francoise62

New Staffy-bull-terrier Member




Status :


Join date

: 2017-10-09


Support total

: 3


Posts

: 2



Aw no poor little guy. My almost 5 blue staffy has skin allergies too. Either to insect bites or grass also exema. His paws have been a problem previously I put it down to walking too much on the road. A few months ago my mum took Yoda to the beach on a very hot day and pretty much cooked his paws. I hope Tycho heals soon keep me updated please if you take him to the vet

Jaszie

Regular Staffy-bull-terrier Member




Status :


Join date

: 2018-11-01


Support total

: 0


Posts

: 20




---
Permissions in this forum:
You
cannot
reply to topics in this forum