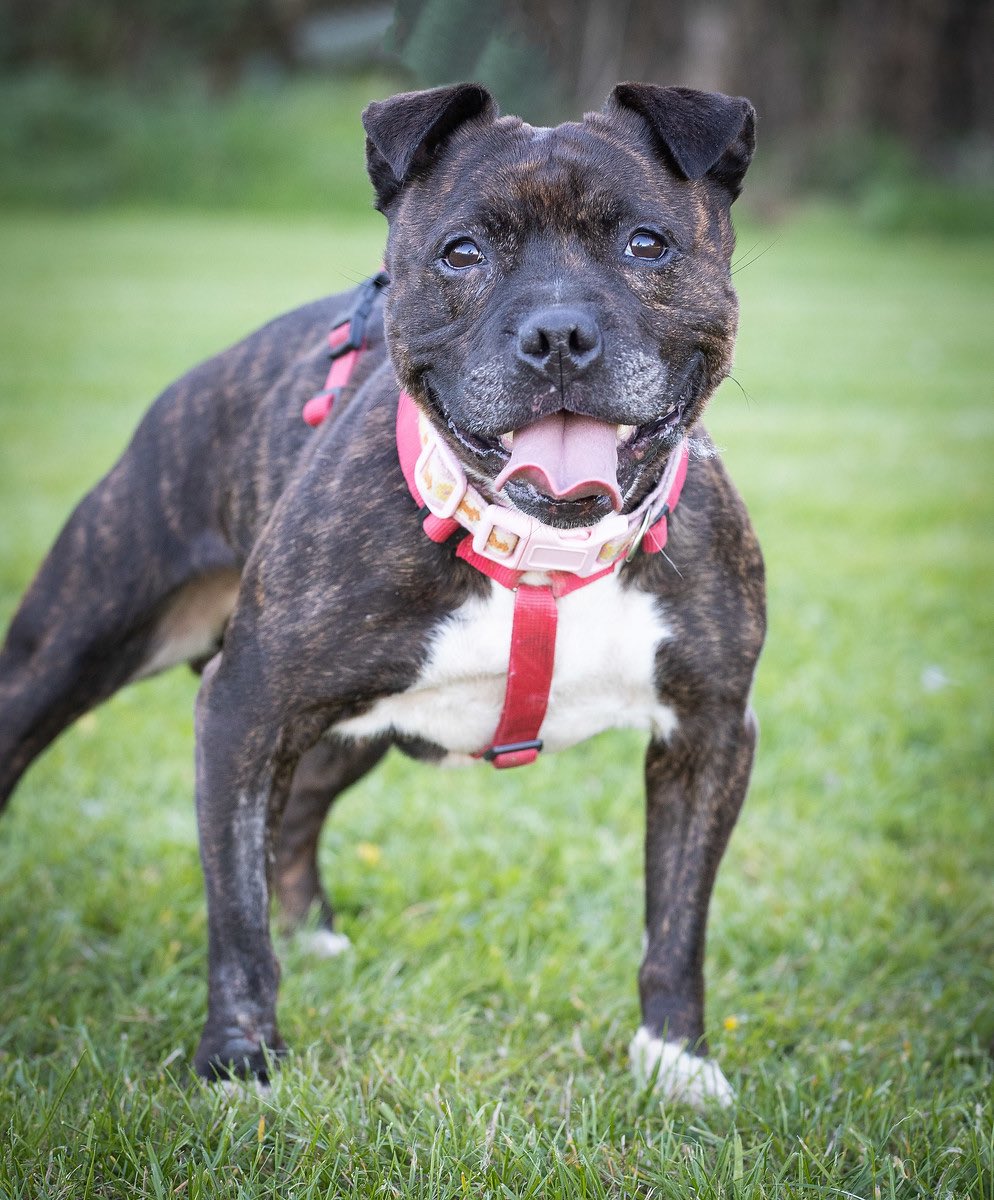 Chica needs a foster home near Shrewsbury ASAP if her medical treatment plan is to have the beneficial effects we are hoping for.
Chica is a sweet and loving staffie girl, who absolutely loves people and snuggles. She's worried around other dogs but that's probably because she's scared they'll jump on her and hurt her bad back – she's been carrying the pain for a long time so habit there.
Since her pain medication has kicked in she has become more interested in the cats, so we think it best she doesn't live with a cat!
She loves toys, particularly soft toys and teddies.
Chica is the sweetist little girl who loves to be loved and will benefit from a quieter home where she can be the centre of attention – looking for a foster please initially but you MUST be close to Shrewsbury, Shropshire as we have a treatment plan set up.
Her back legs are very weak and lack muscle. The vets have found spondylosis in her spine which makes them think she is older than the 4 years it says on her microchip. Chica will need a good nutritious diet, keep nice and slim and will probably need pain relief for life – the cost of which WE will cover ongoing. She's currently taking a course of hydrotherapy, which we hope will produce some strengthening of her back legs as well as reducing her back pain and we have other support planned including a physio trip and supplements.
We will provide financial help and advice to Chica's new family, and we would cover the cost of pain relief. She needs gentle exercise such as walking and swimming, rather than running and bouncing, but she will need exercise.
She just needs a loving home, with caring people and time to rebuild and relax. Can you give her that? We will support you financially in catering for her needs but we need you to be near Shrewsbury, Shropshire so that she has access to all the help we can provide – eg hydrotherapy in Telford, vet in Shrewsbury etc – thanks x
Please read our article 'Are You Really Ready To Adopt A Rescue Dog?' before you apply. Thank you!
Home check, meeting at the rescue and adoption fee applies
Finding Furever Homes
Last edited by Bert74 on Sun Oct 28 2018, 11:43; edited 2 times in total (Reason for editing : wrong details entered)
Super Staffy-bull-terrier Member




Status :


Join date

: 2013-12-09


Support total

: 0


Posts

: 43



Foster has now been found, but a furever is still being sought.
Super Staffy-bull-terrier Member




Status :


Join date

: 2013-12-09


Support total

: 0


Posts

: 43




---
Permissions in this forum:
You
cannot
reply to topics in this forum