Below you will find a list of Team members. We are all volunteers and are here to offer Advice, guidance and any general Staffy queries. Some have professional experience with Dogs and others have their own Staffy experiences to share but all are here through the love of our chosen breed the Staffordshire Bull Terrier.
Admin
These people are usually busy behind the scenes looking after the general well being of the Forum and Face book Page.
Inez Maria
Howdy! my name is Inez but you can call me Piglet
 I own Vinnie who will be 5 years old in August 2016.
I have been a member of this great forum since 2011, and have learnt many tips and good advice over this time.
I am 46 and am a hairdresser and funeral reporter, though not at the same time
 I have over the years progressed to Admin on here and feel very honored to be part of a great team.
We the staff dedicate our time and advice purely for the love and well being of this fabulous breed!
Right I am off to Piglets bar now to get drunk!
Chow peeps
----------
Stella
Hia I'm Stella and this is my girl Sasha, she's 12 this year so slowing down a bit now a bit like me!!, I joined the forum a few years ago now after I needed a bit of advise about Sasha, I was made so welcome and the advice I was given helped so much I stuck around as I wanted to help others if I could. We all are crazy about the breed and many of us are just crazy too
but we all just want to help other members if we can.
---------
Rachel33
Hello! I'm Rachel.. I live in Devon, on the edge of Dartmoor with my Staffie, Bug, and partner. I have been a member of the forum since 2012 and feel very proud to have worked my way up to admin status!
I have shared my home with a Staffie from the age of two, though my parents also kept whippets and lurchers. Bug came to me as a stray, so I'm unsure of her age, but she has lived with us for about 4 years and is mine and my OH's first dog together. Bug has taught us a lot along the way, due to her complex health and behavioural problems.
My background is within animal welfare, I spent the first 5 years of my professional life working as a kennel hand, before being promoted to a behavioural assistant for an RSPCA kennels, as well as studying dog behaviour with the CIDBT; though I have now had a career change to humans and currently work as a support worker for children and younger people with ASD, learning difficulties and mental health problems. I am now studying to become an Occupational Therapist.
I continue to volunteer with dogs and very much support the rescue sector. My interest remains within behaviour and this is an area that I enjoy discussing most on the forum.
----------
-Ian-

Hi, my name is Ian and I have been a forum member since early 2014. I live on the border of North Surrey and a London borough so when I chose my location I thought Surrey sounded posher but, could claim to be either side of the boundary really.
I've been fortunate enough to travel the UK with my work and travel is somewhat a passion for me, I like nothing better than jumping in the car for a weekend get away with Flo & staying in a cottage or Pub somewhere scenic.
My experience with Staffordshires stems way back to when I was a teenager and lucky enough to have a puppy stafford stay a while, and then she decided that she wanted to live with us full time. This is where my love of the breed started. Sadly she passed on as they all do and I really couldn't have a Dog in my life whilst I had a young family.
That all changed on one fateful visit to Battersea Dogs Home in 2012 where my current Staffy Flo was residing. Somehow she ended up in my car and the rest is history. I'm not a trainer but have picked up an awful lot of useful info from being owned by two Staffies and the excellent advice here on the forum, the rest of my advice is from my own rambling experiences. With Flo being Deaf it has been an experience teaching her sign commands, however, this is really impressive to those that don't know how smart Staffords really are but not to those that know the breed  
----------
LizP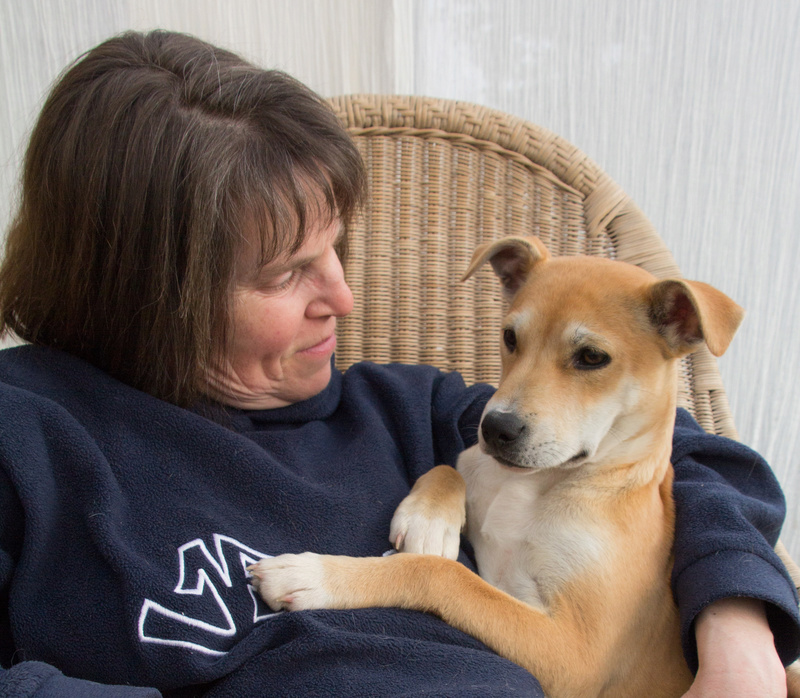 I'm Liz and I live in north Essex with 3 dogs, various ex-bat chickens (usually 10-15) and 1 husband.
We've had dogs for years but only discovered the magic of the staffy with Bobbert, a staffy x lab x lurcher rescue, 8 years ago. Bobbert is no more, but we now have Chaos and Millie, both staffy crosses, and Nola the lab x retriever. All are rescues, and for the record Nola when we first got her was probably the most testing dog I've ever owned!
I've had various careers but most recently finally did what I'd dreamed of since a child - I became a horse trainer, specialising in problem solving using non-violent methods. Unfortunately, long term illness forced me to stop, so since then I've become more involved in other passions, including animal rescue work and photography, often combining the two. I spend a lot of time doing various things for the RSPCA Danaher Animal Home, and Shy Lowen, a horse (and human!) sanctuary up in Liverpool.
I am still passionate about animal training using methods that reject force and concentrate on making sense to the animal, so those are the areas you'll find me most on the forum.
----------
Global Mods
These people Moderate the forum and some are truly Global
----------
JenC
Hi I'm Jen & I fell in love with this girl when I 1st saw her
She was only 6wks old when looking for a new home, her 2nd home since leaving her mum
We knew from the start she would be a character, we couldn't believe what a character!!!!
This is me & my best friend Katy
I cant imagine life without her, but a bed without her would be great
----------
AussieStaff
Hi, I'm Bek. My hubby & I are owned by our 2 year old purebred English staffy Koda, who loves nothing more than giving any of our 5 children a rough up when they visit!
Koda is my 1st dog and I can't imagine having any other breed now, I am so ridiculously in love with him (& him us all!). I'm from New Zealand but have lived here in Australia for the last 12 years, I love the climate here (amongst many other things!) and am very aware of the extreme temperatures and dangers (ie venomous snakes in our backyard) for Koda. We both work full-time although hubby mostly from home which is great company for Koda, it also means he gets extra walks & play sessions which he thrives on. Koda was a very destructive pup which was very testing but we have invested a lot of time correcting this behavior and the only naughty indulgence he occasionally has now is the BBQ knobs which he has bit of a thing for !
This forum has been a god send for me, I have learnt SO much and continue to do so. I have felt very welcome and hope you all do too, if you have any questions or simply need a rant post away, and of course we're all suckers for a good picture or three !
----------
Mods
These people Moderate the forum and will help with any general queries
---------
Debs01
Hiya I'm Debbie, I'm 39 and live and work in London. I've been a member of this forum so long I can't even remember when I joined! I first joined because I needed advice with Axl when he was knee high to a grasshopper now he's a big stocky boy and still a little tinker lol. Can't thank the guys on here enough for all their help over the years and Axl and I have been through some rough times but now all the advice and training has paid off and I hope to share my learning curves with you
Here's a few of me and my boy!
----------
Mistys Mum
----------
jshrew
----------
Jnestie
---------
---------
Supporting member
These team members are alway happy to help where needed and guide New members around the Forum
---------
Lynn&Pete
---------
shegsy
Hi, I'm Sheila and  live in Sunderland which is in the North East of England.  I joined the forum early  2014 when my darling Stella was nearly 13 years of age.  Sadly, she is no longer with us as she died in late August 2014.  This forum and it's members gave me so much support when we lost Stella and I can't thank them enough for their kindness during a very sad time.
I am retired and  live with my husband Jim.  We look after and regularly walk my son's dog, Tyler, a beautiful black labrador, nearly every day.  We have 2 grandchildren aged 9 and 6 and they also keep us busy.
I love the forum and try to help and support as much as possible.  Hope you enjoy it as much as I do!!      
Tyler
----------
VikkiGT4
Hi, I'm Vikki and I live in Telford, which is in Shropshire.  I've lived here all my life and despite the reputation it's not that bad a place.....honest!  I mean, how can it be when I live there  
I am currently working full time as a Service Analyst, about to change my role to Implementation Manager next week.  I'm also a fully qualified figure skating coach at Cannock Ice Rink (this is my passion and am hoping to do this full time as soon as I can).
I joined the forum back in 2013 and have loved being a part of this community.  It's a place I feel I can come to when I need help or just picking up from a down mood.
I was the very proud pet of Knox (Knoxville), my gorgeous blue brindle staffy for around 4 years.  No idea how old he was as he came to us in a strange way.  A couple of friends brought him round to see us as he had been left dumped at a friends house.  They were going to keep him but their Dogue de Bordeaux didn't like him very much.  We weren't looking for another animal for the house, I already had 25 snakes, a tortoise, four geckos, three tarantulas, and the other half to look after, but just one look at his face changed my mind straight away.  We decided to look after him for the weekend and try and find a home but when it came to it I couldn't let him go.  He hadn't had the best start to life, I don't know the ins and outs but to start with if anyone raised their voice above normal chat level he would shake uncontrollably and sometimes pee.  It broke my heart.
Anywho, after a few months with us you would never of known a happier woof!  He was diagnosed with carcinoma in the nose in April last year.  We opted for pallative care due to the issues and complications that can arise with radiotherapy.  We said our goodbyes on 12th June 2015 and it was the worst day of my life.  As I'm writing this now I'm crying.  This forum was so supportive and helped us see that we made the right choice in our decision to have him put to sleep.  It still breaks my heart now!
There are no plans for me to have another dog at the moment but never say never.  I love this breed and would always have a staff and would always be a rescue if I was to have another.
I'm not usually this depressing, honest!
Love and kisses Vikki xx
---------
Goblin
---------
I
dogs
---------
GRAHAM.C
Hi, my user name is GRAHAM.C but most call me Kit. I am a retired engineer who lives in Truro, Cornwall. (Gods own country)  
I am no stranger to owning a dog, in fact from a child growing up to the present day I have always had one or more living with me. In my early days of dog ownership, I kept and bred G.S.Ds.
That all changed one Sunday in Truro in the 1980s when I saw people exiting a dog show and loading their dogs into cars. I saw this lady loading 2 lovely little black/brindle dogs and had to ask her what breed they were, and from that day to present I am still bitten by the Staffy bug.
Over the past 30 years I have owned, bred, and shown Staffs, I have always kept pedigree dogs with the aim to improve our lovely breed and carry on the great work that the early Staff breeders have done in the past, (don't get me wrong, I see nothing wrong with anyone owning a Staffy x as there are some lovely animals about these days.)
I come on to this brilliant forum every day to keep up with the news and topics, and it is hoped with the many years of dog ownership I can help or advise someone with a problem.
There is one thing that I noticed very early when I joined, and that is the wealth of knowledge from some of the senior members on here, and the friendly way it is given. Long may it last.
GRAHAM.C (Kit)
---------
Niffer
---------
Sealpig
Hi my name is Kerry and i've been with the forum since January 2015. I'm a military nurse, so can bounce from place to place but am currently rather settled in the south of Hampshire.
I'm a massive rugby fan and am an active player for a few teams- Rio also loves rugby but purely for ball popping tendencies!
Rio is my and my other half's rescue staffy cross (not sure what with). He was due to be put to sleep as he was hard to re-home due to not getting on with other dogs and cats, before my OH's step-dad thankfully stepped in and rescued him. Unfortunately, unknown allergies flared up for his step dad and mum and they were looking at rescue homes to give him away to, but we knew there was a high chance of him being destroyed due to his difficult behaviour with dogs. I couldn't bear that thought and he swiftly found his forever home with us
I'm head over heels for him and have learnt so much from our community on here, the advice given to me has made positive improvements to Rio's life and I always try to help with any knowledge i've gained along the way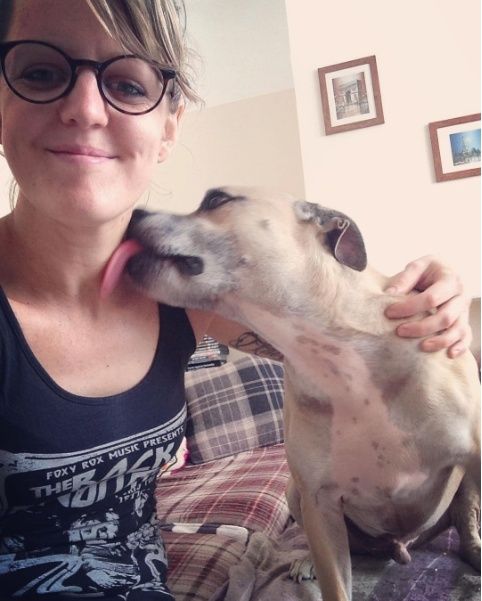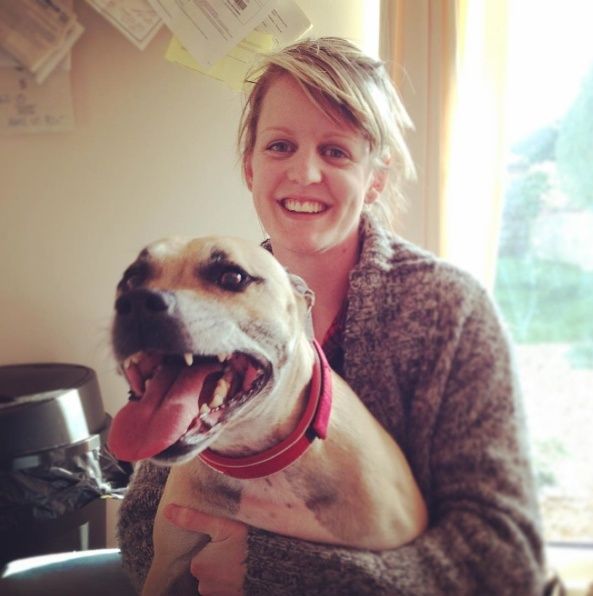 ---------
suzieJ
---------
Nifty Staffy
---------
Last edited by -Ian- on Fri Jul 14 2017, 22:04; edited 1 time in total
Staffy-Bull-Terrier Admin




Status :





Age

: 51


Location

: Surrey


Dogs Name(s)

: Anything, she's Deaf !


Dog(s) Ages

: About 12 maybe


Dog Gender(s)

: Girl


Join date

: 2014-01-31


Support total

: 2863


Posts

: 22346




---
Permissions in this forum:
You
cannot
reply to topics in this forum