Sasha is an 18 month English Bull Terrier cross and is currently on foster in Caerphilly.
The Sasha Fact File
Dog status: Very good
Cat status: Could be rehomed with dog savvy cats.
Child status: Very good, could be rehomed with children aged 7 plus.
House training: Very good.
Home alone: Suitable for full time workers but would need a break in the day and company outside working hours.
Basic training: Good basic training. Perfect recall. Will need continued lead training.
Sasha is a comical bundle of fun that will bring life and laughter to her new home.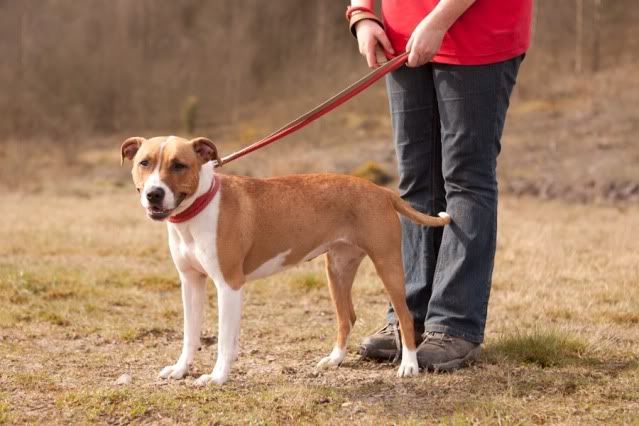 Sasha is in foster with a lurcher and would be able to be rehomed with another dog or as an only dog as long as she has doggy friends to continue socialising with. She has been fine with dogs she has met out and about as life is one long playtime for Sasha.
Sasha is foster with a dog savvy cat and 4 free range rabbits and while excitable initially she has improved greatly. She could be rehomed with cats or small furries as long as the introductions are done sensibly and slowly. As with everything in life Sasha regards everyone as a friend and wants to play.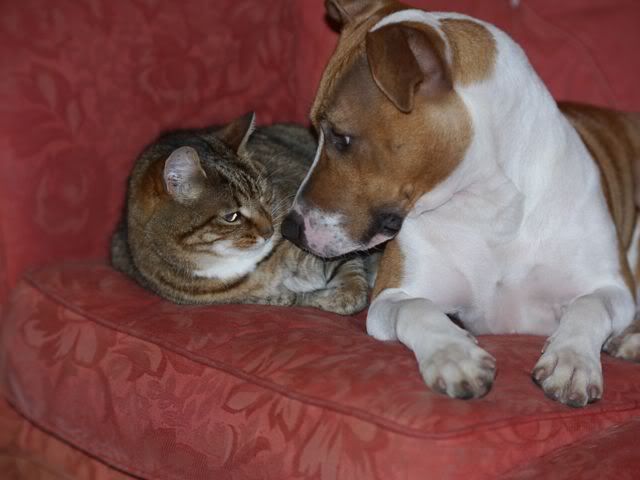 Sasha will be looking for a new home that have experience around larger dogs and can work on her lead training as she can pull on the lead but she is improving all the time. She is a fast learner and knows sit, down, no, wait, stay and recalls perfectly. She does agility in her foster home and is clever and eager to please. She responds to kind, positive training methods. She gets upset with harsh handling.
Sasha did initially guard her food from the resident dog but not to humans so care would be needed when feeding and giving treats around other dogs. However she is now happy to share biscuits and will sit and wait and take them gently. She will however steal unattended food!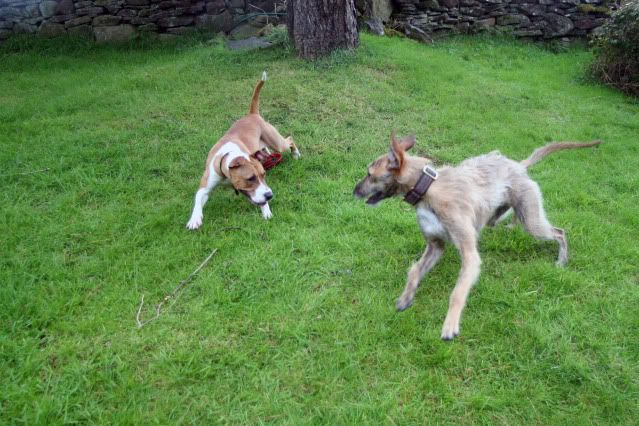 Sasha is a very social dog and likes to have company, though can be wary with men when she first meets them but she soon comes round. She is not in foster with young children but has been fine with teenagers. We would advise that children would be 7 or older due to her size and bounciness. She has been left in her foster home and has been fine. She could be rehomed with a full time worker as long as she got a break in the middle of the day. Sasha has not been destructive in the home and when bonded with her owners would prefer to be with them than escaping from the garden. She could probably clear 4-5 foot fences easily however. She travels well in the car settling down quickly.
In summary Sasha is a loving dog who bonds strongly with people. She will need an active, playful home that can continue to provide challenges and goals for Sasha as she is quick to learn and a pleasure to train. In return Sasha will make sure every day is fun and full of life.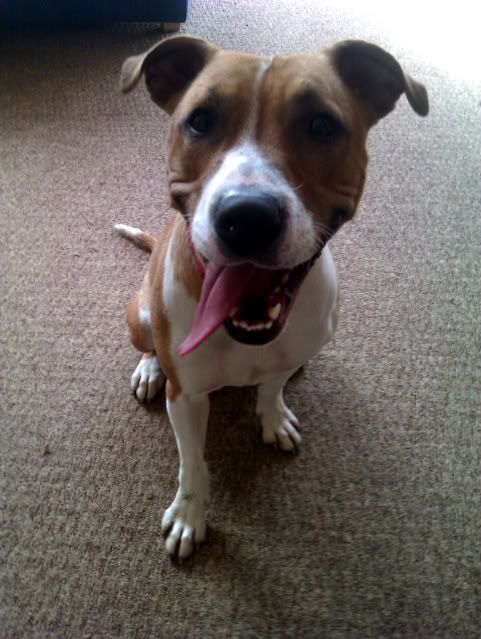 All Hope Rescue dogs are neutered (if over 6 months), vaccinated, flea treated, wormed and micro-chipped prior to adoption. A homecheck will be required, and you will need to come and meet the dog with your own dogs and family. Hope Rescue rehomes throughout the UK. A Pre-Home Interest Form can be downloaded from
www.hoperescue.org.uk
and should be returned to
dogs@hoperescue.org.uk
Super Staffy-bull-terrier Member








Join date

: 2011-05-22


Support total

: 0


Posts

: 111



---
Permissions in this forum:
You
cannot
reply to topics in this forum